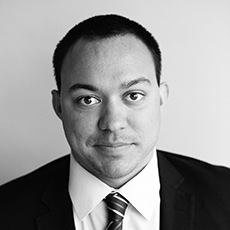 ANDREW McCraven
Associate
213 787 0346 DIRECT
213 402 2061 FAX
626 806 2979 MOBILE
andrew.mccraven@isylaw.com
Download Vcard
Andrew McCraven is an associate at Iaffaldano, Shaw & Young LLP with experience in assisting a wide variety of clients in all aspects of commercial real estate transactions, including acquisitions and dispositions, development, leasing, financing and joint ventures involving commercial and residential properties, retail properties, offices, apartment complexes, condominiums and hotels.
As a past legal clerk at J.F. Shea Co., Inc. and at Iaffaldano, Shaw & Young, McCraven assisted in development, joint venture, purchase, sale and leasing transactions for a full-range of real estate clients.
McCraven received his B.B.A. in the Business Economics Honors Program from the University of San Diego. He received his J.D. from the University of Southern California, Gould School of Law and is a member of the State Bar of California. While at USC, McCraven served on the board of the Southern California Interdisciplinary Law Journal.